Prayers Before Retiring at Night - Keesherayeen Aghotk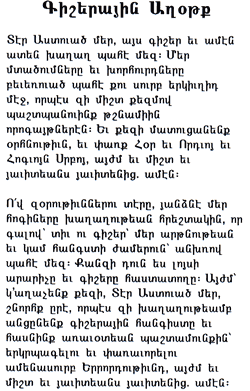 ---
Transliteration
Der Asdvadz mer, ays keesher yev amen aden khaghagh bahe mez. Mer mdadzoomne'ruh yev khorhoortneruh pevervadz bahe koo soorp yergyoogheet mech, vorbes zee meeshd kezmov bashdbanveenk tushnamee-een vorokaytneren. Yev kezee madootsanenk orhnootyoon yev park Hor yev Vortvo yev Hokvooyn Surpo, a'yzhum yev haveedya'nus haveedeneets. Amen.

Ov zorutyunneru deruh, hantsne mer hokineruh khaghaghootyan hreshdageen, vor kalov, deev oo keesher; mer artnooyyan yev gam hanksdee zhameroon, ankhrov bahe mez.Kanzee toon yes looysee araree'chuh yev keesheruh hasdad'ghuh. A'yzhum g'aghachnenk kezee, Der Asdvadz mer, shnork ure, vorbes zee khaghaghootyamp antsunenk keesherayeen hankeeduh yev hasneenk aravodyan bashdamoonkeen, yergurbakeloo yev paravoreloo amenasoorp Yerrortootyoo'nut, a'yzhum yev meeshd yev haveedya'nus haveeneneets. Amen.
---
English
O Lord our God, keep us in peace during this night and at all times. Keep our hearts and thoughts secure in holy reverence for you. So that we may be protected at all times from the snares of the enemy. And let us offer blessing and glory to the Father and to the Son and to the Holy Spirit, now and forever and unto the ages of ages. Amen.

O Lord of hosts, commit our souls to the angel of peace. So that he may come and keep us in peace and undisturbed by day and night, while awake and while asleep. For you are the creator of light and establisher of night. And now we ask you, Lord our God, grant us to pass through this night's rest in peace and arrive at our morning duty, to the worship and glorification of your all Holy Trinity, now and forever and unto the ages of ages. Amen.
© ArmenianChurch.org
---