Prayer for All Occasions - Aghotk polor areetneroo hamar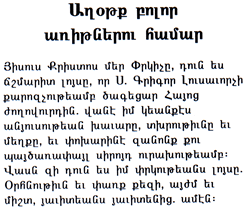 ---
Transliteration
Heesoos Kreesdos mer Purgee'chuh, toon yes jushareed loo'ysuh, vor Soor Keekor Loosavorchee karozchootyamp dzaketsar Hayots zhoghovoorteen. Vane'eem gyankes ahnoosootyan khava'ruh, dukhrootyoo-nuh yev me'ghuk, yev pokhareene zanok koo bayzarapayl seerooyt oorakhootyamp. Va'sun zee toon yes eem prgootya'nus loo'ysuh.

Orhnootyoon yev park kezee, a'yzhum yev meeshd yev haveedya'nus haveedeneets. Amen.
---
English
Holy Savior, Jesus Christ, you are the true light that shined on the people of Armenia through the preaching of St. Gregory. Remove from my life the darkness of despair, sadness and sin; and replace them with the joy of your radiant love. For you are the light of my salvation. Blessing and glory to you now and always and forever. Amen.
© ArmenianChurch.org
---