Prayer Before Meals - Aghotk Jashen Arach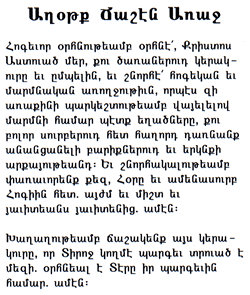 ---
Transliteration
Hokevor ohrnootya'mp orhne, Kreesdos Asdavadz mer, koo dzaraneroot geragoo'ruh yev umbeleen, yev shnorhe hokegan yev marmnagan aroghchootyoon, vorbes zee arakeenee bargeshdootyamb vayelov marmee hamar bedk yeghadzne'ruh, koo polor sooperoot hed haghort tarnank anantanelee pareekneroot yev yergunkee arkayootya'nut. Yev shnorhagalootyamp paravorenk ke, Ho'ruh yev amenasoorp Hokeen hed. A'yzhum yev meesh yev haveedya'nus haveedeneets. Amen.

Khaghaghootyamp jashagenk ays geragoo'ruh, vor Deeroch goghme barkev durvadz e mezee; orhnyal e Deruh eer barkevin hamar. Amen.
---
English
The head of the table says:
O Christ our God, bless this food and this drink of your servants with a spiritual blessing, and make us healthy in soul and body; so that as we enjoy the food our bodies require in the modesty appropriate to our religious calling, we may share in your infinite blessings, and in the kingdom of heaven, together with your saints. So that in thanksgiving, we may glorify you, with the Father and with the all-holy Spirit, now and always and unto the ages of ages. Amen.
All respond:
Let us eat this meal in peace, which the Lord has given us as a gift. Blessed is the Lord for all his gifts. Amen.
© ArmenianChurch.org
---